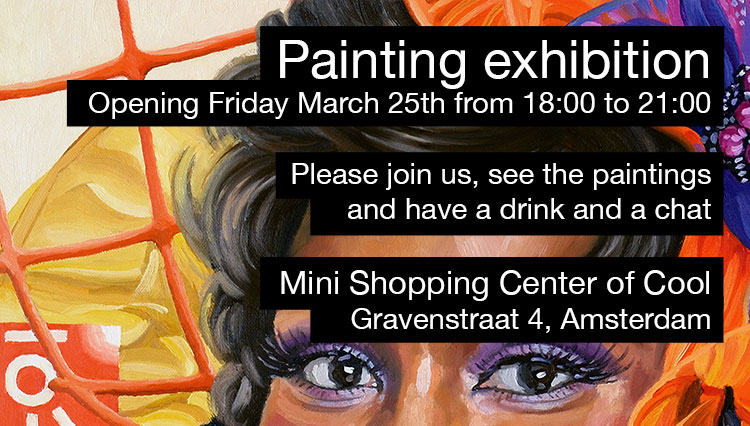 Friday March 25th the first ever exhibition of my paintings opens at Mini Shopping Center of Cool in Amsterdam. I'd like to invite everyone to come by, see the paintings, and have a drink and a chat. I'm very happy with this first opportunity to show my paintings in public at such a great place, and have just finished a new painting that's not on this site yet and that I made especially for this exhibition. It's the one of which you see a detail in the invitation image above.
The opening will be from 18:00 to 21:00 and I hope to meet all of you there!
Mini Shopping Center of Cool is located at Gravenstraat 4, right in the centre of Amsterdam just behind the Dam Square and Nieuwe Kerk.
Mini Shopping Center of Cool is a shop combined with a gallery that opened at this location in 2015. In their own words:
The Mini Shopping Center Of Cool (MSCOC) is the smallest creative shopping center of Amsterdam.The MSCOC is a platform for young and more established designers. My philosophy is very simple, unique, authentic, graphic design, hand made, printed and produced under their own supervision. No mass production. The items we sell are t-shirts, sweatshirts, accessoires, jewelry, leather goods, illustrations & art prints and books. Also, we organize exhibitions to promote new work.
I really hope to see you at the opening!